7 Effective Ways to Stay Focused While Studying Online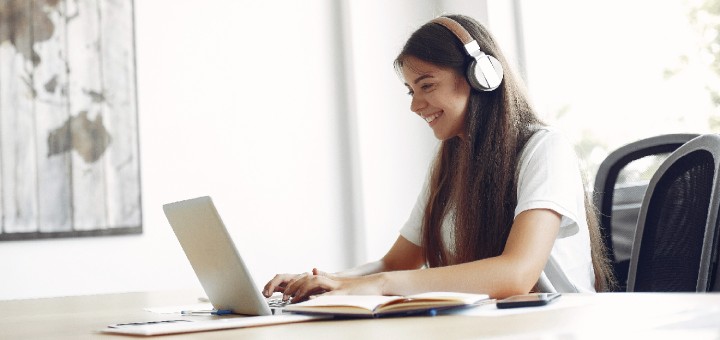 Pursuing online courses can be an intimidating experience for many individuals due to the lack of face-to-face interaction, the physical absence of tutors, lousy time management, and online distractions, but enrolling in it offers complete convenience and full flexibility.
While adjusting to remote learning is challenging for a few, many students and working professionals have adapted to this mode of education. At the same time, managing a schedule while juggling work, family, and education is challenging. Therefore, it is imperative to understand how to stay focused while studying. Extreme prudence, efficiency, and time management skills are definitely the must-haves when studying online. Still, we will discuss a list of strategies that you can adopt to make the most out of the situation.
How Can You Manage Studies While Working?
Upskilling is the undeniable need of the hour to survive in a competitive business landscape. As a large chunk of working professionals are considering online courses to advance their existing skill sets, many educational institutions offer a variety of degrees in numerous fields. In fact, online learning has become commonplace for many educational institutions worldwide. Individuals can balance work and study by developing effective online learning strategies. Here, we'll go through seven tips on how to become a successful online learner.
7 Tips to Keep You Focused While Studying Online
Take charge of your goals: Self-motivation is essential as it drives you to complete various tasks and duties efficiently. Many people find it challenging to give up their free or leisure time to focus on their studies. So, motivating yourself helps you achieve your goals.
Study regularly: As soon as the course starts, students must begin covering a smaller portion of the syllabus on a regular basis. It helps to complete the course easily without leading to stress.
Prepare notes: Keeping track of all the pertinent details is crucial. When the exam time approaches, it will help you revise the course. Moreover, preparing notes during the online class allows you to understand what you are learning, clarify your thinking, remember the material, and organize your ideas.
Minimize distractions: Ensure to keep phones, TV, social media, and other apps at bay to minimize distractions while studying online. Avoiding social media platforms and apps will allow you to focus on your lecturer.
Take assistance, if required: Not all courses are easy to learn. If any subject is difficult to understand, get help from a friend, tutor, or mentor. Taking assistance from others will enable you to land a job and earn a competitive salary.
Communication is key: Talk to your professors and peers. Networking can help you in multiple ways. Forging links with them will allow you to understand topics, acquire a global perspective, and develop critical thinking. Above all, this will help you build a strong network. Developing strong communication skills will be highly beneficial in the long run and assist in carving a great career path.
Establish an effective study place and take short breaks: The right type of ambiance to study with great concentration is essential. Short breaks are advised during online learning because they refresh the mind, allowing one to learn better and cover more material efficiently.
Conclusion
Online degrees are beneficial as they provide access to a wide range of options that can advance one's career. As traditional and online master's programs have equal value, earning a degree online is worthwhile. Therefore, you can opt for online courses and earn a degree without distractions.